Hey beauties, I would love for you all to come take part in this amazing Blog Hop! All the rules are below so be sure to Hop along and discover some fabulous Blogs! This is a weekly Blog hop presented by some fabulous bloggers! Also if you're interested there is opportunity to be a co-host : email one of the hosts if your interested at:
mondaybluesbloghop@gmail.com
COME SUPPORT YOUR FELLOW BLOGGERS VIA
"THE MONDAY BLUES BLOG HOP"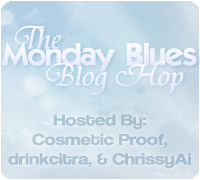 "Click On The Button To Join"